Spa Philosophy
Our spa philosophy focuses on the relaxation and rejuvenation beyond our clients expectations. At our spa, our commitment to the highest standards of quality is reflected in everything we do – from a carefully cultivated guest experience to our commitment in setting standards for total relaxation.
Serenity Facials
Unsure of which facial to choose? Our skin care therapists provide a skin analysis with every facial. We will recommend a treatment that is best suited for your skin type.
---
Our Serenity Signature Facial
Our classic facial begins with a back, neck and shoulder massage that will start your relaxation process as your skin is rejuvenated by a facial tailored to your skin type.
Duration: 80 min | Price: $159
---
Le Grande Classique Facial
A facial for all skin types. Deep pore Purifying, detoxifying, restoring and relaxing.
Duration: 75 min | Price: $129
---
Alpha Vital Facial
This facial aids the epdermis to be gently regenerated. Cellular renewal is intensified, complexion cleared and wrinkles and fine lines diminished.
*We recommend a series of 4 sessions to help visibly diminish the signs of time.
Duration: 75 min | Price: $139
---
Lifting Optimizer Facial
3 Dimensional lifting and firming facial using the latest scientific and advanced ingredients giving you visibly noticeable results.
Duration: 75 min | Price: $139
---
Express Escale Beaute
A complete facial in express time, a great introduction to the YON-KA aromas and skin line. Will leave your skin satisfied and renewed.
Duration: 45 min | Price: $75
Body Therapies
Reduce tension and relieve the negative effects of everyday stress with a vitalizing spa body massage.
---
Body Therapies
Duration
Price
Our Signature Harmony Massage- A light to medium pressure which employs long, gliding strokes and kneading to induce a deep state of relaxation incorporating your choice of essential oils.
80 min
50 min
$169
$129
Swedish Massage- A light to medium pressure massage to help your body relax and rejuvenate.
80 min
55 min
$169
$129
Hot-Stone Massage- This massage has the "Heat is healing" effect. When you have a hot stone therapy treatment, the heat from the stones gently, yet continuously penetrate into your muscle fibers to melt away layers of tension.
80 min
55 min
$189
$149
 
Back, Neck and Shoulders Stress Massage- Quick pick-me up to get you through the day.
30 min
$69
Deep Tissue Massage- This aids in the release of blockages and knots. Relieves muscle tension  and spasms due to stress, posture, athletic activities and more.
80 min
50 min
$179
$139
Gommage Marine- is an invigorating exfoliation with marine salts and essential oils leaves the skin toned and aromatic
30 min
$79
Couple's Massage
Perfect companion treatment to have with that special someone. Select a massage of your choice and the massage will be done in our couples suite for the selected massage price.
 from $258
Holistic Therapies
Holistic Therapies
---
Indian Head Massage- Varieties of massage movements are used to relieve accumulated tension and stimulate circulation.
45 min| $80
---
Reflexology – This is a natural aid in restoring a body's healing balance.
---
---
---
Finishing Touches
Luxurious grooming treatments for your hands and feet. We also perform waxing, tinting, and more.
---
Manicure
A pampering and hydrating hand and nail treatment. Includes cuticle and nail trimming, exfoliation and massage followed by a nail polish of your choice.
Duration: 55 min | Price: $52
---
Pedicure
The sumptuous 'Pedi Spa' includes a stimulating foot bath followed by an exfoliation, shaping, cuticle work and a therapeutic foot and leg mask. Includes a relaxing foot and leg massage finished with your favourite nail colour.
Duration: 60 min | Price: $75
---
Additional Treatments
Duration
Price

Shellac

Shellac Manicure
55 min
$60
Shellac Polish Change
45 min
$50
Shellac Soak Off
15 min
$15
Shellac pedicure
60 min
$85

Waxing (prices are from and up)

Eyebrows
$25
Lip/chin
$18
Full leg
$58
Full Leg w/ bikini
$80
Half Leg/full arm
$38
Underarm
$25
Brazilian
$65
Bikini Line
$30
Back
$58
Full Face
$50

Tinting

Eyelashes
$28
Eyebrows
$20
Eyelashes and Eyebrows
$39







Spa Etiquette
For your convenience, a 15% gratuity will be automatically added to all treatments. Learn more about our spa policies.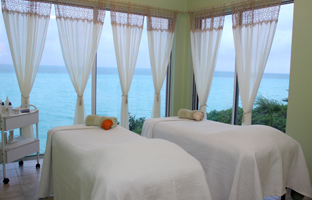 Book a Treatment
Our friendly spa coordinators will be happy to answer any questions you may have about our treatments, products, and facilities.